"We want to be a world leader in the sawmill industry, especially in terms of sustainability. The new heat pump technology supports our goal and the investment has a good payback period", says Antti Koulumies, Head of UPM Timber, explaining the new AmbiHeat heat pump system at the UPM Korkeakoski sawmill.
The modular AmbiHeat heat pump system has a thermal capacity of 1 MW and can be expanded to a 2 MW heat pump plant in the future.
Traditionally, sawmills dry timber using heat generated from bark. The air in kilning is very hot and humid, so it is also very energy intensive.
"We had thought about where we use the most energy, and that is the kilning process. Unfortunately, despite heat recovery systems, most of the waste heat is lost. Could that waste heat be used? This is where we came across Calefa", says Sami Kotivuori, sawmill director at Korkeakoski.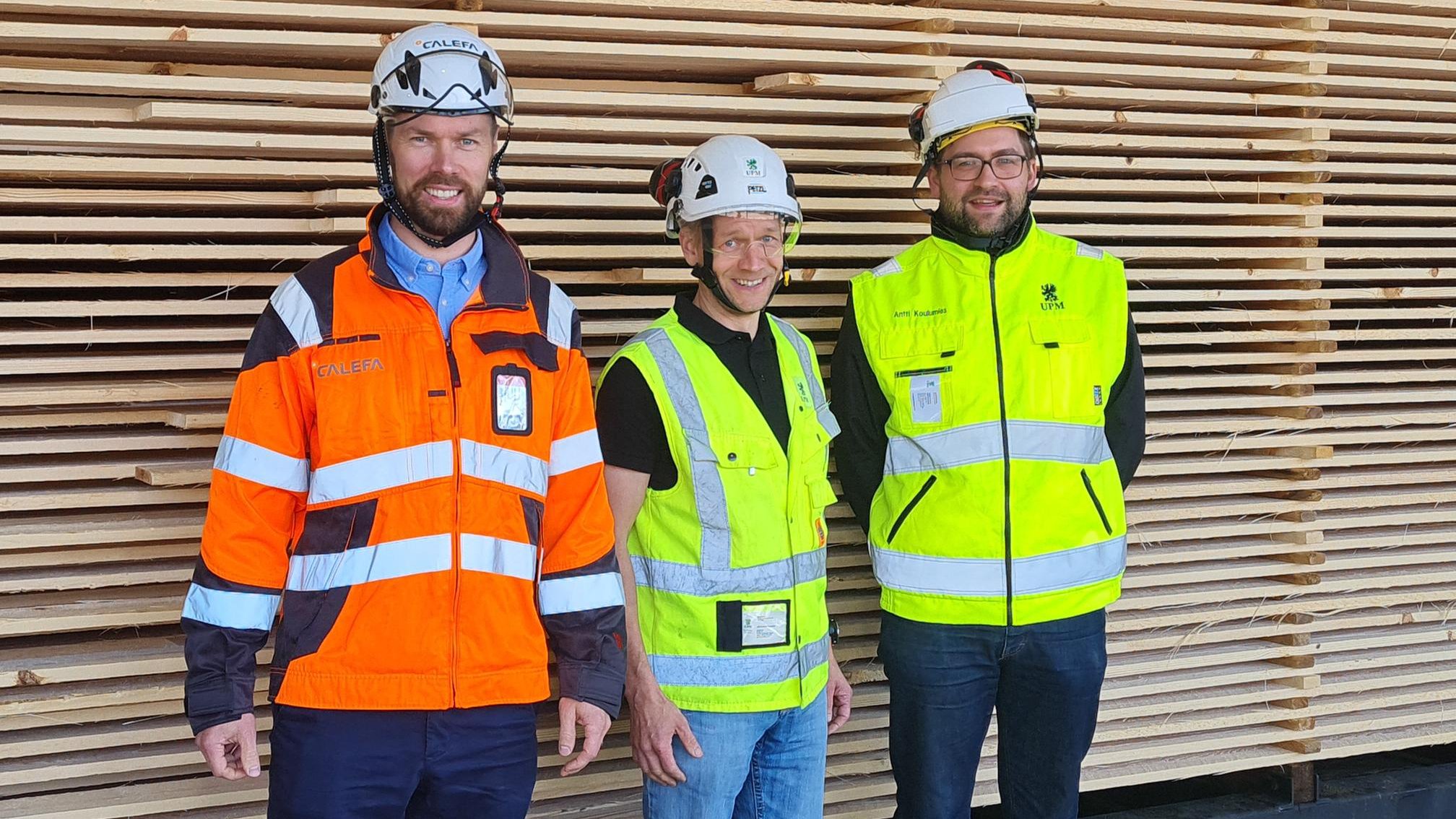 CEO of Calefa Petri Vuori (left) visited Korkeakoski sawmill where he met sawmill director Sami Kotivuori and head of UPM Timber Antti Koulumies.
Less emissions and more efficient production
From next summer, the Korkeakoski sawmill will start using the 52-60 degree waste energy from its two drying kilns with an AmbiHeat heat pump system. The waste heat is processed into heat with a high efficiency of over 100 degrees Celsius for the sawmill. The heat pump plant will reduce the amount of wood chips burned. In addition, the kilning capacity can be increased during winter freezing periods.
"During cold weather, kilning has been a bottleneck in production, with insufficient heat production. A heat pump plant will increase the efficiency of the process," Kotivuori says.
The Calefa AmbiHeat heat pump system is capable of producing the exceptionally high temperatures of over 100 degrees Celsius required by industry from a variety of heat sources, thanks to its advanced heat pump technology.
"The process requires a very high temperature, a technology that has not been available before", Kotivuori says. As a domestic supplier, Calefa's reliability also contributed to the investment decision.
"Manufacturing domestically is a responsibility that is also part of our values. In addition, the introduction of new technology is easier when we have only one supplier with overall responsibility", Kotivuori adds.
Calefa remotely controls and optimises the heat pump system.
UPM sets a new benchmark in sustainability
At UPM Timber, the purchase of the heat pump system is part of a wider change to completely zero emissions. There will be a growing global demand for transparency on how a product is produced, where the raw material comes from and what its life cycle will be.
"Until now, it has been thought that if the product is made of wood, that is enough. I see that within the sawmill industry we should be able to differentiate ourselves and raise the bar when it comes to product emissions and other sustainability factors", says Antti Koulumies.
The aim is to set a new benchmark for the industry, while challenging also others to become more sustainable.
"We see that this is the only way forward. Every industry needs to do what it can and it is up to business leaders to move these things forward very quickly. By being a pioneer, we can bring other Finnish sawmills on board", Koulumies sums up.
Calefa' CEO Petri Vuori agrees.
"The mechanical forest industry is a very large industry in Finland and within it, timber kilning is very energy intensive. The potential for using the waste heat from this is absolutely unprecedented. It is very important that UPM Timber shows the future direction and sets the standard in sustainability to the whole industry," Vuori says.