As opposed to regular biofuels, advanced biofuels are made of renewable raw materials from non-food sources, such as agricultural or forestry residue.
"These so-called second-generation biofuels make fuel production more sustainable, as they aren't directly linked to or competing with other industries such as the food and feed chain," says UPM Sales and Marketing Director Juha Rainio.
UPM BioVerno advanced biofuels are made from wood-based residue called tall oil at the UPM Lappeenranta Biorefinery in Southeast Finland.
"Crude tall oil originates from sustainably-managed forests — it is a residue of pulp production where wood fibres are separated to produce raw material for paper. It doesn't compromise biodiversity, because using residue streams doesn't increase wood harvesting or land use."
Advanced biofuels bring flexibility to compliance management
Wood-based advanced biofuels are a sustainable way to reach circular economy targets and reduce emissions in the road transport industry by replacing fossil raw materials with renewable choices.
"Advanced biofuels lower exhaust emissions on the road and generate 80 percent less greenhouse gas emissions over the life cycle than fossil diesel. Furthermore, the drop-in fuel is fully compatible with all diesel engines," Rainio says.
Advanced biofuels meet the most demanding sustainability requirements set for biofuels. In addition to helping customers reach sustainability goals, advanced biofuels bring flexibility to compliance management planning.
"Crop-based first-generation biofuels are capped by the EU regulation, so advanced biofuels help in carrying out the minimum quantity mandates for biofuels set in many European member states."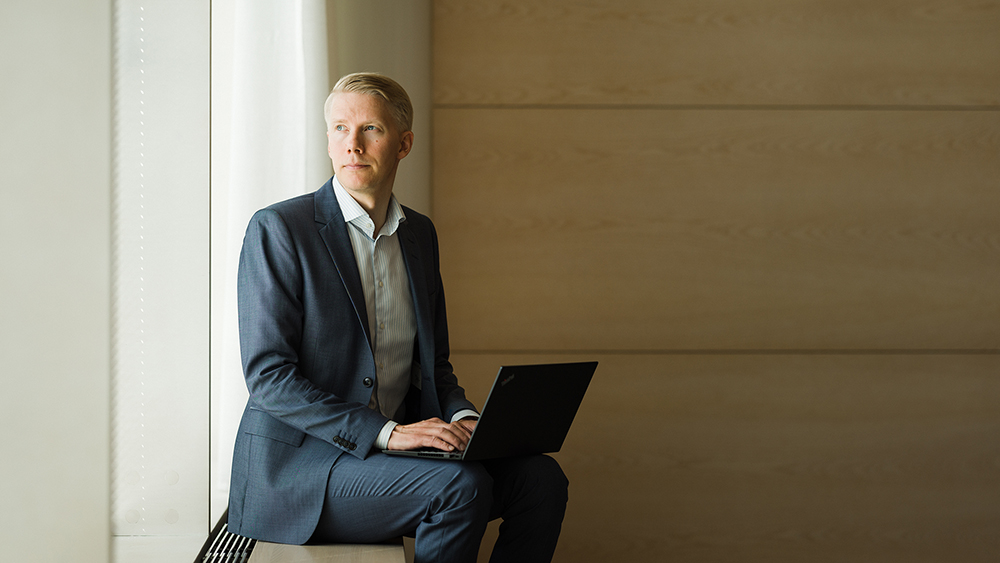 Juha Rainio
Advanced biofuels create substantial reductions in carbon footprint with no changes to operations
Advanced biofuels rival fossil fuels in their physical properties, making them a perfect alternative also for polymer production – ranging from packaging to automotive applications.
Using more sustainable, residue-based raw materials allows for a gradual transformation from fossil to bio-based feedstock. Additionally, companies can utilise their existing processing and recycling facilities.
"There is no need to compromise on quality, recyclability, or appearance. Chemical and bioplastic industries can achieve a substantial reduction in their carbon footprint with no changes in their operations. For example, the raw material used for plastic coating in packaging can simply be replaced with wood-based naphtha," Rainio explains.
Transparent production process benefits ecosystems and brand owners alike
When it comes to the source of raw materials or the sustainability of production processes and operations, UPM has no secrets.
"Our operations are transparent from collecting feedstock to processing and the delivery of the product. Brand owners often find this traceability beneficial when communicating it onwards in their company's value chain," Rainio notes.
UPM advanced biofuels have their roots deep in sustainable forestry, with minimal impacts on land use.
"Crude tall oil in biofuel production doesn't increase wood usage, and no additional fertilizer, water, or land is required to get our feedstock. Separate logging operations aren't needed either, as the raw material is a residue of softwood pulp production."
A substantial part of the raw material in the Lappeenranta Biorefinery comes from UPM's own pulp mills in Finland.
"The origin of our wood is always known, due to the tracing system and Chain of Custody model. In Finland, all UPM-owned forests are PEFC™ certified, the majority also by the FSC®", Rainio says.
UPM ecosystem feedstock guarantees supply security and agility
Using wood-based tall oil from pulp production as feedstock gives the inevitable residue product a completely new function and value. Beyond sustainability, utilising own feedstock also creates supply security.
"We own a total of 900,000 hectares of forestry land in Finland, Uruguay, and Minnesota, USA. Integrating feedstock and sourcing and logistics pairing into our own UPM ecosystem helps us secure long-term availability of the feedstock," Rainio says.
Even with the status as the leading provider of wood residue-based advanced biofuels, UPM has all the perks of agile small players.
"We can offer the kind of flexibility in operations that is out of reach for bigger players. Our operations team is available 24/7 to smooth out any wrinkles in our customers' operations," Rainio concludes.