When the company built the factory by Lake Saimaa, it had already been in business for almost 20 years. Kaukaan Tehdas Osakeyhtiö, later known as Oy Kaukas Ab, was founded by Robert Björkenheim and was originally named after the Kaukastenkoski rapids, is now part of Hyvinkää but used to belong to Mäntsälä.
Pulp production at Kaukas began five years after the spool factory had been established. Since then, the pride of South Karelia's industry (now known as UPM Kaukas) has grown significantly, as has the city of Lappeenrantathat surrounds the mill site.
Today, the Kaukas mill plant produces pulp, sawn timber, paper and energy.​

I became familiar with the Kaukas mill site in 1996–1999 when I worked as the editor-in-chief of regional newspaper Etelä-Saimaa and my office was only a stone's throw away from the gates of the mill. During those years, I quickly developed an ability to smell when the pulp mill was experiencing process issues.
They didn't occur often, but there were occasional malfunctions due to the mill's continued tradition of constantly developing its operations. When you try to create something new, your neighbours sometimes have to endure small discomforts like funny smells.
This year the Kaukas mill site will once again make history by launching the production of UPM BioVerno, a second generation renewable diesel developed by UPM's own research unit. The company has invested EUR 179 million in the project - a significant amount of money.
Finland has confidence in the bioeconomy sector and BioVerno could become one of Finland's new flagship products.
The biofuel is being produced in a brand new biorefinery located next to the old spool factory. UPM BioVerno is made from tall oil, a residue of pulp production.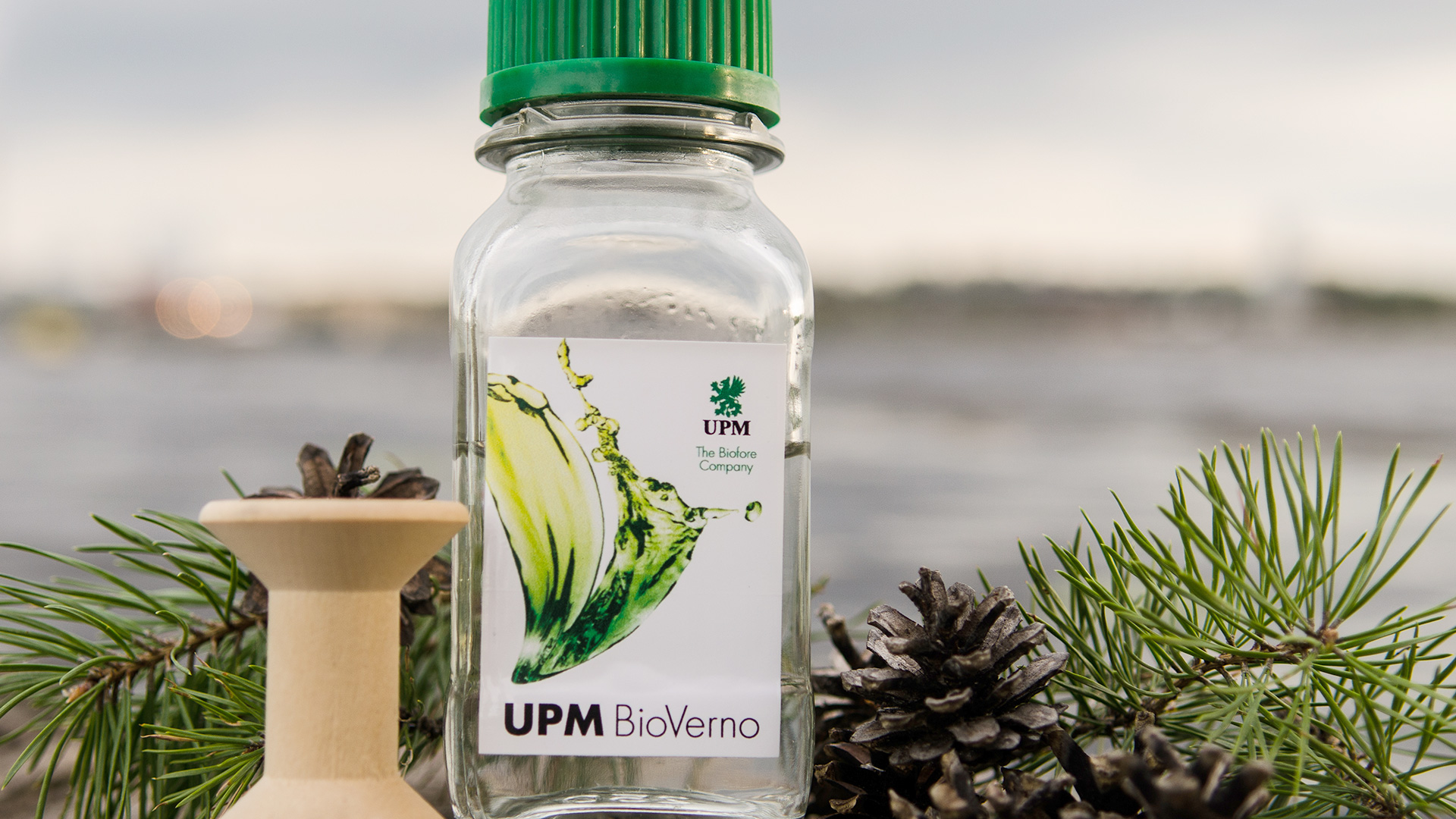 Renewable diesel UPM BioVerno is produced in a new biorefinery located next to the 120-year-old spool factory on the Kaukas mill site.
On 30 September UPM BioVerno had a prominent role at Finlandia Hall, when WWF presented its freshly published Living Planet 2014 report to a large audience. The event also included a seminar organised by UPM and WWF in which participants discussed the role and future of forest-based biofuels.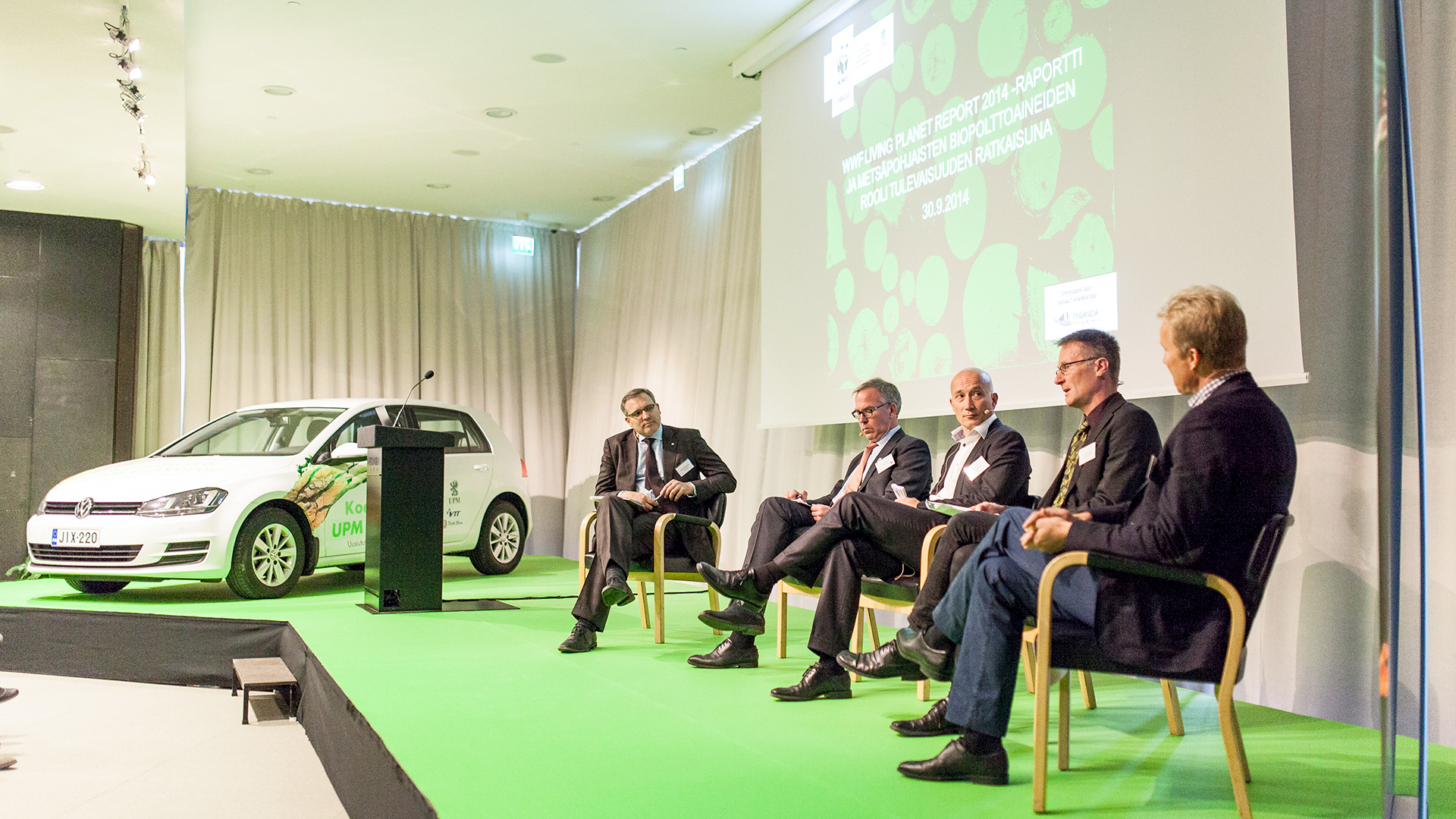 Panelists from left to right: Mikael Pentikäinen, moderator, Jari Luukkonen (WWF), Heikki Vappula (UPM), Antti Asikainen (Metla) and Mika Anttonen (St1).
Event participants included politicians, researchers and representatives of industry, environmental organisations and the media. There was a great sense of appreciation of UPM's transition from a traditional forest industry company to a trailblazer for Finland's bioeconomy.
The event made it clear to everyone that UPM is an exemplary company in terms of taking responsibility for the planet and promoting the bioeconomy. The essential role that biofuels play in improving sustainability and protecting biodiversity was heavily emphasised at the event.
UPM BioVerno and other products manufactured using forest biomass also play an important part in convincing Finns that forests will continue to be a significant source of income in Finland.
The new media age and the global challenges of the paper industry have led many to believe that the golden age of the forest industry is over.
This is not the case. The forest industry will continue to be the backbone of the Finnish economy. If the developers of Finnish bioeconomy companies are more daring in creating new products, then the significance of the forest industry can only become greater. UPM BioVerno certainly sets a good example.
Biomass provides us with huge opportunities. It is important for Finland to seize these opportunities and use them to build a sustainable society and economy.

The writer is a management and communications consultant whose career as a journalist has included working as the editor-in-chief of newspapers Etelä-Saimaa and Helsingin Sanomat.