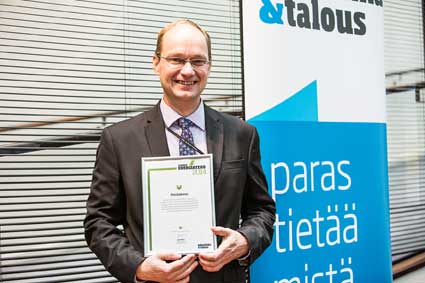 ​

(11.9.2014) The Tekniikka&Talous news magazine has awarded "Energy initiative of the year 2014" recognition to Petri Kukkonen, head of UPM's Biofuels business.

UPM has completed the construction of the Lappeenranta Biorefinery and will start producing a renewable diesel called UPM BioVerno from tall oil this autumn.

Petri Kukkonen, who received the award, has had a remarkable role in the development work for UPM's second generation renewable diesel.

Production from the UPM Lappeenranta Biorefinery will cover one quarter of Finland's renewable energy target in transport in 2020. Thus UPM's investment will significantly help Finland in reaching the set goals and improve the country's energy self-sufficiency.
The investment in the biorefinery shows the will of a traditional company for renewal, said the jury's evaluation. Notable also is that UPM has not applied for any public investment grant for the project.

The award for "Energy initiative of the year" was granted for the third time. The jury consisted of Jukka Leskelä, Director in The Finnish Energy Industries, Mari Pantzar-Kallio, Director from SITRA (The Finnish Innovation Fund), Jarmo Partanen, Professor from the Technical University of Lappeenranta, Risto Sulkava, Chairman of The Finnish Association for Nature Conservation, Iivo Vehviläinen, Business Director from the Gaia consultancy (providing solutions for sustainability), as well as reporter Tuula Laatikainen and Editor-in-Chief Jyrki Alkio from the Tekniikka&Talous magazine.

The award announcement was published on Thursday 11 September - during Finnish Energy Day in Helsinki.

Tekniikka&Talous is the biggest Finnish news media that specialises in technology developments and news. The main audience of the magazine consists of engineers and technology decision makers.