​(22 September 2015) Finnish wood-based UPM BioVerno diesel has been found to significantly reduce harmful tailpipe emissions. A number of engine and vehicle tests have been carried out across a number of key research institutes such as VTT Technical Research Centre of Finland Ltd, University of Vaasa in Finland and at FEV, internationally recognised vehicle engineering company based in Germany.

UPM BioVerno renewable diesel has already been shown to function just like conventional diesel in all diesel engines yet it generates up to 80% less greenhouse gas emissions during its lifecycle compared to conventional fossil diesel fuels.

Additional proof of the excellent properties of the Finnish wood-based UPM BioVerno diesel is provided by the latest test results, which show that UPM BioVerno also reduces harmful tailpipe emissions.

These emissions, such as particle mass, hydrocarbon, carbon dioxide, nitrogeous oxide and carbon monoxide emissions, werereduced by up to dozens of percent compared to conventional diesel fuel, depending on vehicle technology and blend. All the tests showed similar or improved efficiency of the engine, without compromising the engine power, when UPM BioVerno was introduced to the fuel blend. In addition, it could be shown that by using 100% UPM BioVerno diesel fuel consumption decreased.

FEV Germany carried out a series of tests on UPM BioVerno's effect on engine functionality and emissions with both a diesel blend containing 30% UPM BioVerno and 100% UPM BioVerno diesel. In addition to measuring engine output and fuel consumption, the tests focused on tailpipe emissions and the performance of UPM BioVerno compared with conventional diesel.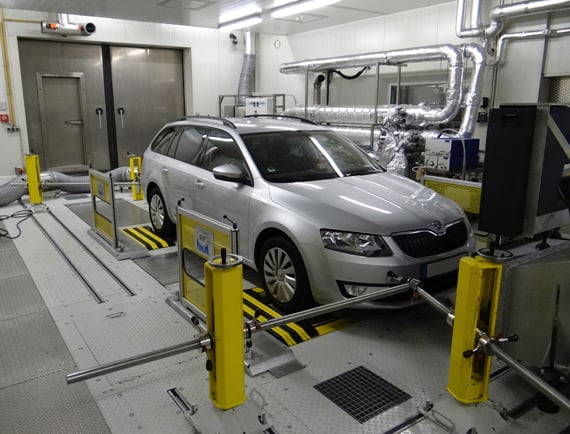 "UPM BioVerno renewable diesel was investigated in a screening campaign at FEV Germany. The results showed that even as a 30% blending component, the accumulated HC emissions were reduced by more than 50% and the CO emissions by more than 40% compared to reference fossil diesel. Our tests also showed good results in NOx emissions and efficiency", says Dr. Ing. Thorsten Schnorbus, Manager Passenger Car Diesel, FEV.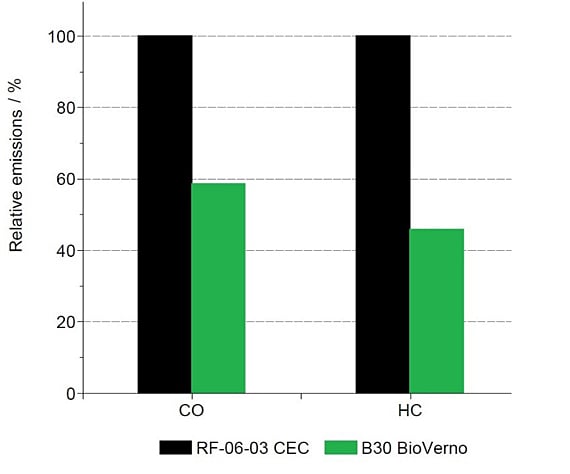 Figure: UPM BioVerno's carbon monoxide (CO) and hydrocarbon emissions (HC) with a diesel blend containing 30% BioVerno (green) in FEV vehicle tests, compared with conventional reference diesel fuel (black).


UPM BioVerno was also tested in University of Vaasa, Finland using a heavy duty engine. These experiments were performed in the Technobothnia Education and Research Centre in Vaasa.

"The engine experiments with a modern Finnish off-road engine showed that the more UPM BioVerno there was in the fuel blend, the lower were the CO and HC emissions of the engine. The lowest CO and HC emissions were recorded when running the engine with 100% BioVerno. Neat BioVerno was also very favorable when looking at nanoparticle number emissions at idle. For all studied fuels and fuel blends, the smoke readings were very low", says Seppo Niemi, Professor in Energy technology, Faculty of technology, University of Vaasa, Finland.

The high quality and higher cetane number of UPM BioVerno diesel provide cleaner combustion in the engine resulting significantly lower tailpipe emissions. Clear differences compared to conventional diesel was gained even with a 30% diesel blend.

"The low tailpipe emissions make UPM BioVerno diesel an even more sustainable choice for drivers. We have developed a novel fuel for consumers using genuinely renewable sources with Finnish expertise and development work. The renewable, high-quality fuels with reduced emissions drive cleaner traffic, now and in the future," says Sari Mannonen, Director of Sales and Marketing at UPM Biofuels.

For further information please contact
Sari Mannonen, Sales and Marketing Director, UPM Biofuels, tel. +358 45 265 1345 , sari.mannonen@upm.com


UPM Biofuels plans to become a major player in high quality, advanced biofuels for transport. Biofuels are an essential part of the UPM's Biofore strategy. The innovative wood-based biofuels developed by the company and their production technologies are part of a sustainable future. UPM's biofuels are frontrunners in quality, usability and sustainability. They will significantly decrease greenhouse gas emissions compared to fossil fuels. www.upmbiofuels.com

UPM leads the reformation of bio and forest industries. We are building a sustainable future in six business areas: UPM Biorefining, UPM Energy, UPM Raflatac, UPM Paper Asia, UPM Paper Europe and North America and UPM Plywood. Our products are made of renewable raw materials and are recyclable. We serve a global base of customers. We employ approximately 20,000 people, and our annual sales are approximately EUR 10 billion. UPM's shares are listed on NASDAQ OMX Helsinki. UPM — The Biofore Company — www.upm.com


The FEV Group with headquarters in Aachen, Germany, is an internationally recognized development service provider for drive and vehicle technologies. The company offers its global transport industry customers a complete range of engineering services, providing support in the design, analysis and prototyping for powertrain and transmission development, as well as vehicle integration, calibration and homologation for advanced internal combustion gasoline-, diesel-, and alternative-fuelled powertrains. FEV's competencies also include design, development and prototyping of innovative vehicle concepts, powertrain electronic control systems and hybrid-electric engine concepts that address future emission and fuel economy standards. The Test Systems division is a global supplier of advanced test cell, instrumentation and test equipment. The FEV Group employs a staff of over 4,000 highly skilled specialists at advanced technical centers on three continents. www.fev.com