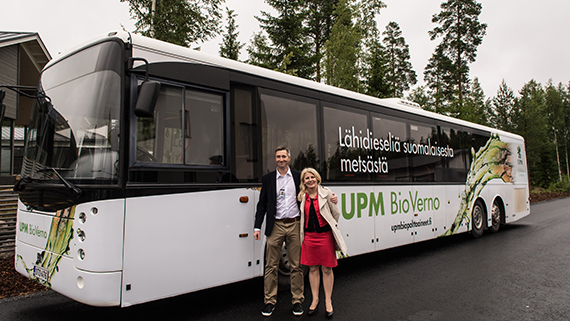 This year's Housing Fair Finland takes place from 8 July to 7 August 2016 in Pruukinranta, Seinäjoki. This year's theme concentrates on the Ostrobothnian can-do-attitude along with the region's long-renowned joinery and construction skills. Once again, visitors have a unique chance to see and experience over 40 distinctive Finnish homes in a single day. During the last 50 years, the Housing Fair has evolved from a simple house exhibition to a versatile showroom of new ideas.

This year, UPM Biofuels is one of the fair's key partners. As a result of this collaboration, visitors can ride to the fair area in a bus fuelled by UPM BioVerno, a wood-based renewable diesel produced from tall oil, which is a residue of pulp production. BioVerno was granted the Finnish Key Flag Symbol in November 2014 due to its high degree of domestic origin.

"For the first time ever, the BioVerno fuel mix is now used in all visitor busses at the fair", says Sari Mannonen, Director of Sales and Marketing at UPM Biofuels. The UPM BioVerno busses transport visitors from the car park to the fair area daily during the Housing Fair.

"The idea of the Housing Fair is to create new ideas and grab opportunities of the future together with our partners and customers. Housing Fair is an event where the new solutions for living can be seen by all Finns. We see living as an entity that relates closely both to energy as well as transportation solutions. This year it is especially great that we are partnering with UPM Biofuels and our Fair buses will use fuel that includes UPM BioVerno diesel," says Harri Tuomaala, the CEO of Housing Fair Finland. ​