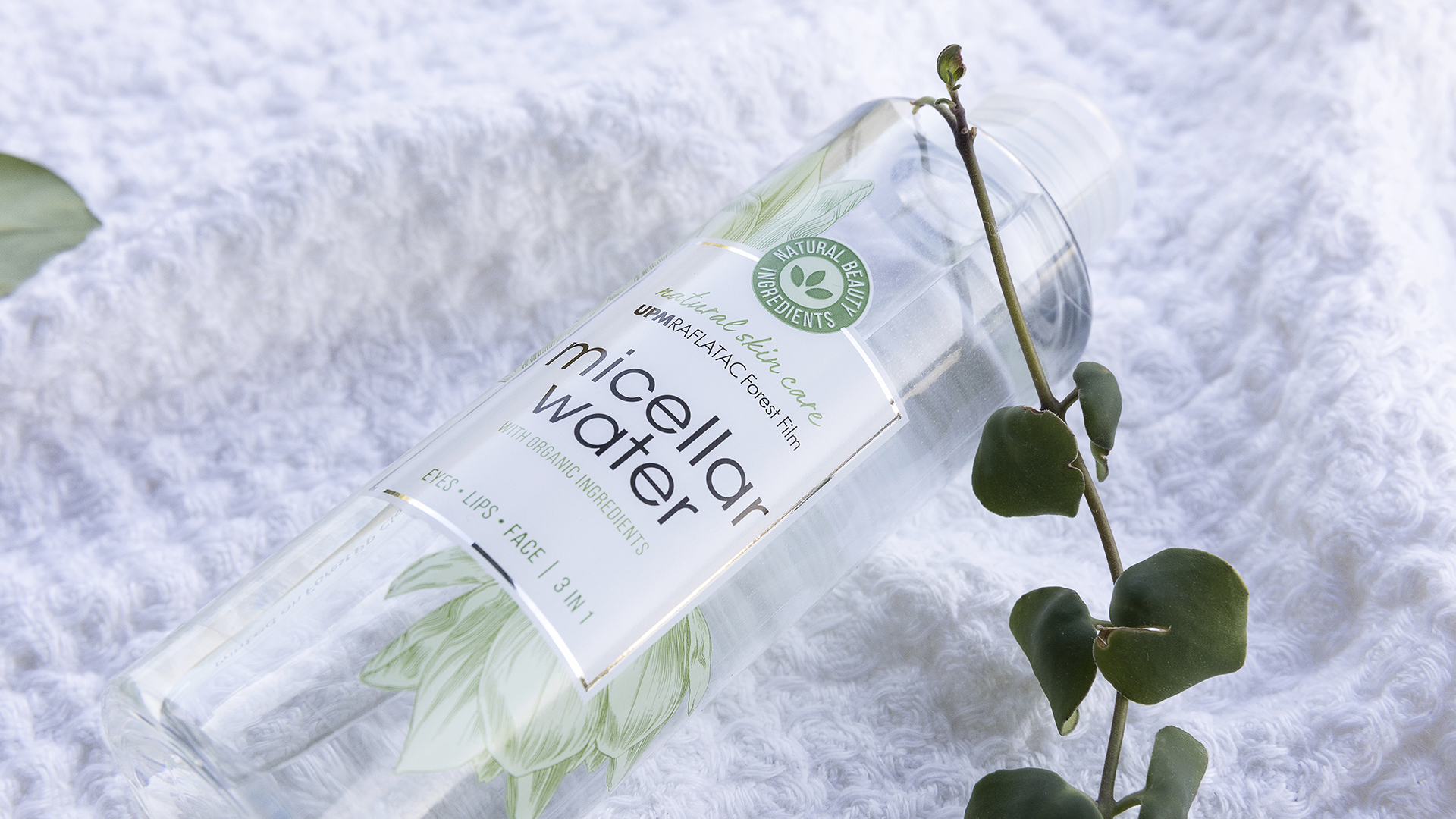 UPM Raflatac and UPM Biofuels have joined forces to innovate for a future beyond fossils. As a concrete result of this collaboration, UPM Raflatac brings two wood-based renewable labeling materials into the market: UPM Raflatac Forest Film™ and UPM Raflatac Fossil-Free Adhesive. These innovative labeling materials will answer brand owners' needs to replace traditional fossil-based virgin materials with renewable ones. Their main raw material is UPM BioVerno™ naphtha, an ideal renewable component for replacing fossil based raw materials with sustainably sourced renewable feedstock.
Forest Film is the first wood-based polypropylene film label material on the market. Fossil-Free Adhesive RP48 is a renewable multipurpose solution. Together with other responsibly sourced label materials like the forest positive UPM Raflatac RAFNXT+, this adhesive forms a comprehensive solution making each layer of labeling even more sustainable.
Both Forest Film and Fossil-Free Adhesive are drop-in solutions so they do not require any changes in production processes and can smoothly replace traditional fossil-based options.These products combine the circular economy with renewable bioeconomy – one tonne of fossil raw material can now be replaced with one tonne of renewable raw material.
"With these product innovations we are taking a big step forward on our journey towards labeling a smarter future beyond fossils. By choosing our renewable labeling materials brands can move even further in their quest to use more renewable packaging. Furthermore, these materials are identical in quality and performance to conventional fossil-based materials and an easy way to add the final touch to a sustainable package," explains Oona Koski, Sustainability Manager at UPM Raflatac.
UPM is building a more sustainable future by replacing fossil-based, non-renewable materials with renewable alternatives from wood-based residues. The company uses raw materials efficiently to create new products and services based on wood fibre, biomolecules, residues and side streams.
"The main raw material of these products is UPM BioVerno naphtha made from tall oil, a residue of pulp production. They are a great example of new product innovations orginating from sustainably managed forests and concrete steps towards a future beyond fossils," explains Panu Routasalo, Vice President, UPM Biofuels.
Find out more about these innovative solutions at Labelexpo Europe, stand (5D41, Hall 5).
Click here to download pictures »
For further information please contact:
Oona Koski, Manager, Sustainability, UPM Raflatac, Tel. +358445757454
UPM, Media Relations
Mon-Fri 9:00-16:00 EET
tel. +358 40 588 3284
media@upm.com
UPM Raflatac
UPM Raflatac is labeling a smarter future beyond fossils by developing innovative and sustainable labeling solutions. As one of the world's leading producers of self-adhesive label materials, we supply high-quality paper and film label stock for consumer product and industrial labeling through a global network of factories, distribution terminals and sales offices. We employ around 3,000 people and made sales of EUR 1.5 billion (USD 1.9 billion) in 2018. UPM Raflatac is part of UPM. Find out more at www.upmraflatac.com.
Follow UPM Raflatac on Twitter | LinkedIn | Facebook | YouTube | Instagram
UPM Biofuels produces renewable and sustainable products for the transport and petrochemicals industries. We offer our customers ways to replace fossil raw materials and reduce their carbon footprint. UPM's innovative, bio-based products are frontrunners in quality, usability and sustainability. In addition to renewable diesel, the UPM Lappeenranta Biorefinery produces renewable naphtha - an excellent raw material for plastics, film materials and glues. www.upmbiofuels.com
Follow UPM Biofuels on Twitter | Facebook | YouTube
UPM
We deliver renewable and responsible solutions and innovate for a future beyond fossils across six business areas: UPM Biorefining, UPM Energy, UPM Raflatac, UPM Specialty Papers, UPM Communication Papers and UPM Plywood. We employ around 19,100 people worldwide and our annual sales are approximately EUR 10 billion. Our shares are listed on NASDAQ OMX Helsinki. UPM Biofore – Beyond fossils. www.upm.com
Follow UPM on Twitter | LinkedIn | Facebook | YouTube | Instagram | upmbiofore.com #UPM #biofore #beyondfossils