UPM Raflatac launches UPM Raflatac Forest Film PE™ to complement its range of sustainable film labeling solutions. The new PE film label takes UPM Raflatac forward in its quest for a smarter future beyond fossils, decreasing the use of fossil-based virgin raw materials in home and personal care labeling applications.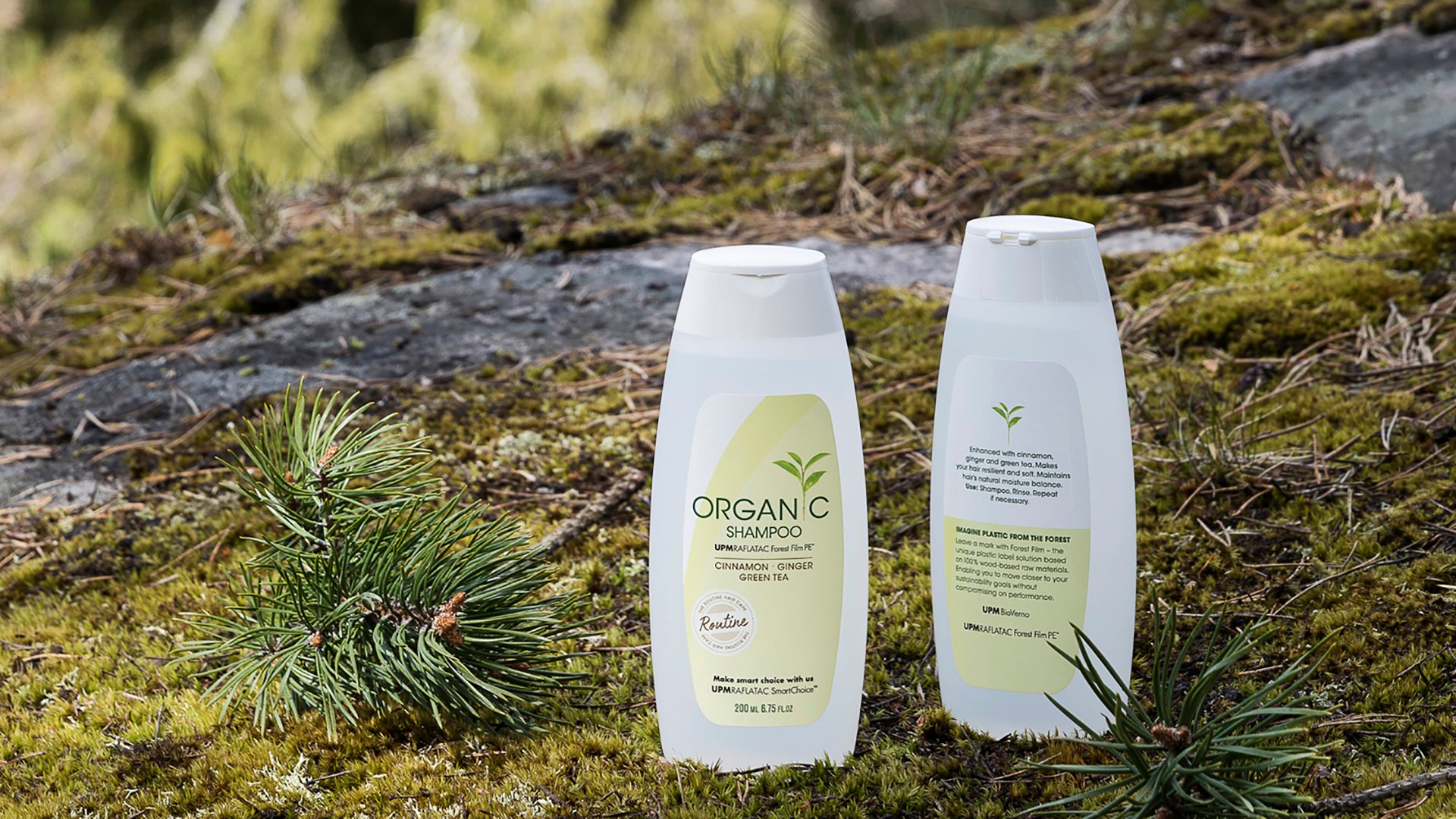 "We want to bring value to our clients by offering a wide variety of sustainable alternatives to choose from. Examples of these include UPM Raflatac Forest Film PE and PP, the first wood-based film label materials on the market, and UPM Raflatac PP PCR manufactured from post-consumer recycled (PCR) plastic," says Timo Kekki, Vice President, Films SBU UPM Raflatac. "As one of the signatories to the Ellen MacArthur New Plastic Economy initiative we will continue driving the industry forward by innovating products that reduce the use of nonrenewable virgin raw materials."
The Forest Film PE label material is produced in collaboration with UPM Biofuels and Dow. UPM Biofuels provides the 100 percent wood residue-based raw material UPM BioVerno naphtha, which is then processed by Dow into bio-based plastic granules to be extruded into label film.
"This new product shows the versatility of UPM BioVerno as a raw material. Crude tall oil, a residue of paper pulp production, is transformed into UPM BioVerno naphtha, which can be used as raw material for different kinds of plastics that helps brand owners meet their sustainability goals in packaging," says Panu Routasalo, Vice President, UPM Biofuels.
Forest Film PE starts UPM's collaboration with Dow in labeling applications. Last year Dow announced the commercialization of bio-plastics offerings for the packaging and labeling industry made from a bio-based renewable feedstock. Dow integrated the wood-based UPM BioVerno naphtha – a key raw material used to develop plastics – into its slate of raw materials, creating an alternative source for plastics production. Dow uses this feedstock to produce different types of bio-based polyethylenes (PE).
"Forest Film PE is another step in the right direction for sustainability in packaging. UPM is a world leader in sustainable biofuels and we are working together to accelerate the move towards sustainable plastics. This new film label material helps customers and consumers reduce the reliance on fossil fuels and therefore reduces the carbon footprint in the entire value chain. At the same time the bio-based PE label materials have exactly the same performance as fossil-derived ones, and they do not have an impact in the recyclability of the final package, when used in HDPE bottles for home and personal care products", adds Carolina Gregorio, Biobased project leader at Dow.
The Forest Film product range has an International Sustainability & Carbon Certification (ISCC PLUS). It is produced using sustainable bio-feedstock, replacing the equivalent amount of fossil resources used in the production process, using a mass balance approach, accounting for the amount of sustainable resources.
Click here to download images »
For further information please contact:
Timo Kekki, Vice President, Films, UPM Raflatac, tel +358204150211
UPM, Media Relations
Mon-Fri 9:00-16:00 EET
tel. +358 40 588 3284
media@upm.com
Judith Hicks
Dow Europe GmbH
jchicks@dow.com
UPM Raflatac
UPM Raflatac is leading in sustainable labeling through our innovative self-adhesive label materials and services. We offer high-quality paper and film label stock for branding and promotion, informational labels, and labels with functionality. We operate a global network of factories, distribution terminals and sales offices. Our company employees around 3,000 people and made sales of EUR 1.6 billion (USD 1.8 billion) in 2019. UPM Raflatac is part of UPM. Find out how we are labeling a smarter future beyond fossils at www.upmraflatac.com.
UPM Biofuels
UPM Biofuels produces renewable and sustainable products for the transport and petrochemical industries. We offer our customers ways to replace fossil raw materials and reduce their carbon footprint. UPM's innovative, bio-based products are frontrunners in quality, usability and sustainability. www.upmbiofuels.com
Follow UPM Biofuels on LinkedIn | Twitter | Facebook | YouTube| #5yearsofupmbiofuels #beyondfossils
UPM
We deliver renewable and responsible solutions and innovate for a future beyond fossils across six business areas: UPM Biorefining, UPM Energy, UPM Raflatac, UPM Specialty Papers, UPM Communication Papers and UPM Plywood. As the industry leader in responsibility we are committed to the UN Business Ambition for 1.5°C and the science-based targets to mitigate climate change. We employ 18,700 people worldwide and our annual sales are approximately EUR 10.2 billion. Our shares are listed on Nasdaq Helsinki Ltd. UPM Biofore – Beyond fossils. www.upm.com
Follow UPM on Twitter | LinkedIn | Facebook | YouTube | Instagram | #UPM #biofore #beyondfossils
About Dow Packaging and Specialty Plastics
Packaging and Specialty Plastics (P&SP), a business unit of Dow (NYSE: DOW), combines core strengths of R&D, worldwide reach, broad product lines and industry expertise to deliver high performing technologies for end use markets in food packaging, personal hygiene, infrastructure, consumer goods and transportation. P&SP is one of the world's largest producers of polyethylene resins, functional polymers, and adhesives, and enabled by Pack Studios, is a leading innovator and collaborator across the value chain on sustainable application development and circular economy life-cycle design for plastics. www.dowpackaging.com
About Dow
Dow (NYSE: DOW) combines global breadth, asset integration and scale, focused innovation and leading business positions to achieve profitable growth. The Company's ambition is to become the most innovative, customer centric, inclusive and sustainable materials science company. Dow's portfolio of plastics, industrial intermediates, coatings and silicones businesses delivers a broad range of differentiated science-based products and solutions for its customers in high-growth market segments, such as packaging, infrastructure and consumer care. Dow operates 109 manufacturing sites in 31 countries and employs approximately 36,500 people. Dow delivered sales of approximately $43 billion in 2019. References to Dow or the Company mean Dow Inc. and its subsidiaries. For more information, please visit www.dow.com or follow @DowNewsroom on Twitter.