UPM Raflatac and UPM Biofuels will join forces to help their customers choose more sustainable packaging materials at Sustainability in Packaging Europe 2022 conference organized 1-4 November in Barcelona, Spain. Both companies have been developing their sustainable solution portfolios as part of UPM's Biofore strategy that drives the company to innovate for A Future Beyond Fossils.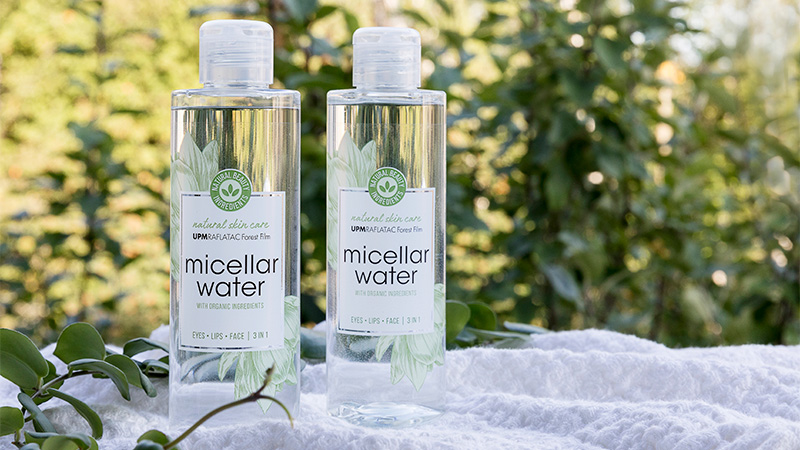 UPM Raflatac, a global supplier of innovative and sustainable labeling materials, will be showcasing the following sustainable solutions at the conference:
"We are excited to showcase our solutions for more sustainable packaging to our customers and industry colleagues. Our goal at UPM Raflatac is to help our customers to make the switch to more sustainable labeling solutions and close the loop by choosing materials and services that support packaging recycling and ensure the circularity and reuse of the packaging. We have great examples of these products and services showcased at the conference," says Matilda Rosti, Director, Marketing, Films & Specials, UPM Raflatac.
UPM Biofuels, a producer of renewable and sustainable products for the transport and petrochemical companies, will showcase their UPM BioVerno naphtha and end-user products made from the UPM BioVerno at the conference. UPM BioVerno is a renewable naphtha produced from wood-based residue of pulp making and it can be used in variety of sustainable bioplastic end-use applications.
"Our renewable UPM BioVerno naphtha is used as a raw material for UPM Raflatac's Forest Film material as well for Arla's and Greatview's bioplastic carton packaging. These showcased products are great examples of sustainable packaging leading the way beyond fossils," says Juha Rainio, Director, Sales and Marketing, UPM Biofuels.
Click here to download images >>
For further information please contact:
Media contacts coordinated by Saku Uotila, Senior Specialist, Communications, UPM Raflatac, tel. +358 2041 50828 or saku.uotila@upm.com
UPM, Media Relations
Mon-Fri 9:00-16:00 EEST
tel. +358 40 588 3284
media@upm.com
UPM Raflatac
UPM Raflatac is leading in sustainable labeling through our innovative self-adhesive label materials and services. We offer high-quality paper and film label stock for branding and promotion, informational labels, and labels with functionality. We operate a global network of factories, distribution terminals and sales offices. Our company employs around 3,000 people and made sales of EUR 1.7 billion (USD 1.9 billion) in 2021. UPM Raflatac is part of UPM. Find out how we are labeling a smarter future beyond fossils at www.upmraflatac.com.
Follow UPM Raflatac on Twitter | LinkedIn | Facebook | YouTube | Instagram

UPM Biofuels
UPM Biofuels produces renewable and sustainable products for the transport and petrochemical industries. It offers the customers ways to replace fossil raw materials and reduce their carbon footprint. UPM's innovative, bio-based products are frontrunners in quality, usability and sustainability. In addition to renewable diesel, the UPM Lappeenranta Biorefinery produces renewable naphtha - an excellent wood-based raw material for plastics. www.upmbiofuels.com
Follow UPM Biofuels on LinkedIn | #upmbiofuels #beyondfossils
UPM
We deliver renewable and responsible solutions and innovate for a future beyond fossils across six business areas: UPM Fibres, UPM Energy, UPM Raflatac, UPM Specialty Papers, UPM Communication Papers and UPM Plywood. As the industry leader in responsibility, we are committed to the UN Business Ambition for 1.5°C and the science-based targets to mitigate climate change. We employ 17,000 people worldwide and our annual sales are approximately EUR 9.8 billion. Our shares are listed on Nasdaq Helsinki Ltd. UPM Biofore – Beyond fossils. www.upm.com
Follow UPM on Twitter | LinkedIn | Facebook | YouTube | Instagram | #UPM #biofore #beyondfossils