We added some great decals to our new Scania woodchip trucks in collaboration with UPM Biofuels. One of the highlights of this autumn was the Power Truck Show – an international transport industry show held at Härmä Powerpark. This is where we showcased our personalised truck for the first time. Showcasing the truck to the visitors was a fantastic experience, and we received lots of positive feedback.

Our collaboration with UPM in the transportation of woodchips, sawdust and bark began in 2010. Almost all of our 20 trucks are used for UPM shipments. Our routes run through several different UPM units: Korkeakoski, Kymi, Rauma, Pietarsaari, Kaukas, Jokilaakso and Tervasaari.

We also transport woodchips from sawmills to the pulp mill. UPM is using crude tall oil, a residue of pulp production, to produce renewable diesel that is suitable for trucks, too. For a Southern Ostrobothnian entrepreneur, the collaboration with UPM has been easy – as it is honest, open and positive.​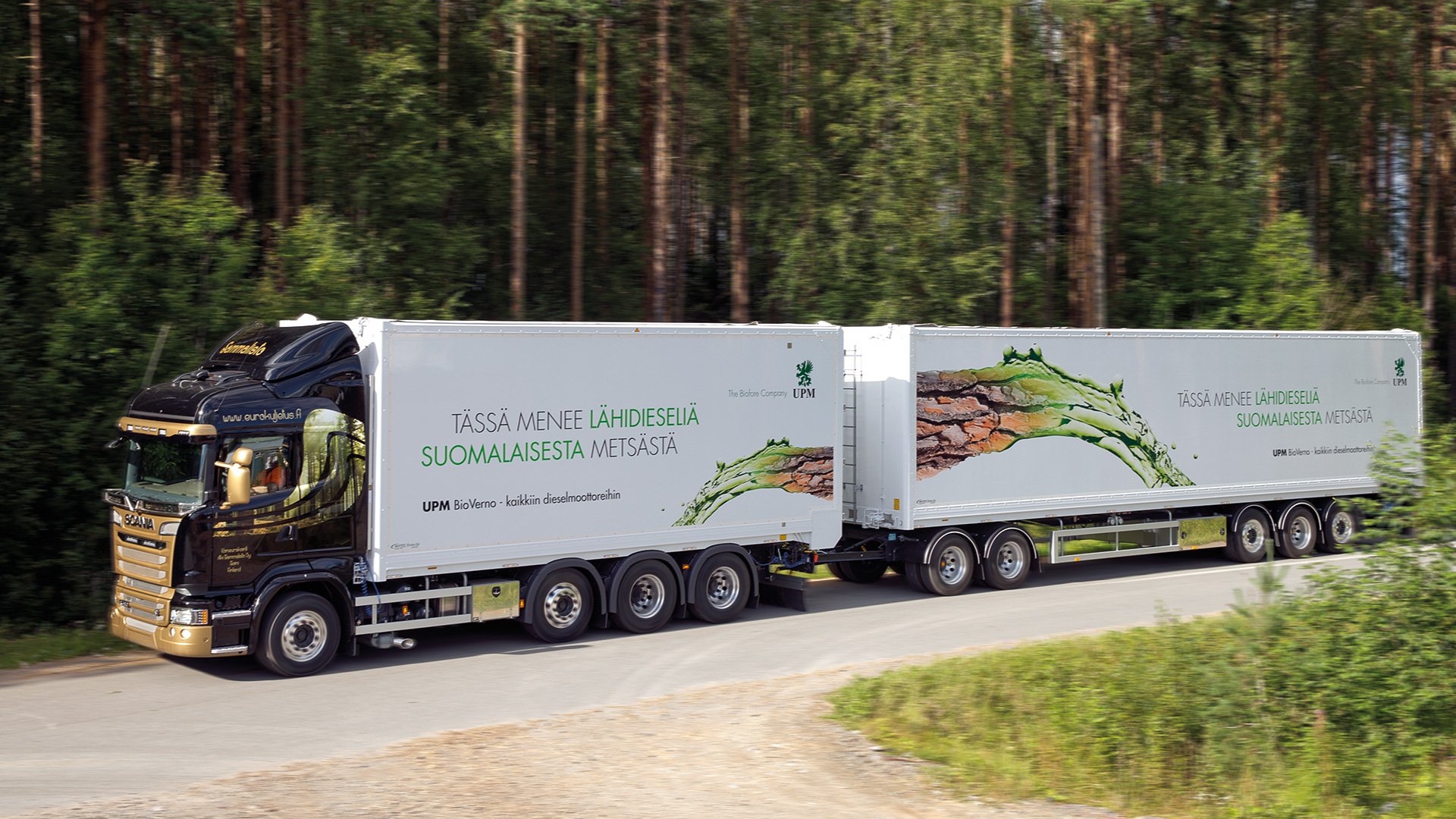 Keep on truckin'! The latest additions to Aki Sammalisto's fleet are Euro VI class trucks equipped with powerful low-emission engines.
One thing has clearly changed along the way. In recent years, the importance of environmental matters has increased in the transport industry in numerous ways. We plan and optimise our routes to the best of our abilities in order to eliminate unnecessary runs and emissions. We have also started to keep track of our carbon footprint. Reducing wind resistance, fuel consumption and emissions are all important factors in our new trucks.

We have a principle of keeping our fleet in good working order, with as many new vehicles as possible. Our goal is to have a fleet consisting only of Euro VI class trucks by the beginning of next year. These trucks are equipped with powerful low-emission engines.

We currently employ 70 people, and during our best periods the number has been nearly 100. In addition, we provide work for several contractors based on the changing needs of our customers. The most important factors for our fleet are safety, usability and environmental friendliness.

It is great that we have been offered the opportunity of participating in the UPM BioVerno diesel campaign. Who would disagree? It is a positive thing in every sense that Finland produces wood-based diesel that helps reduce emissions.